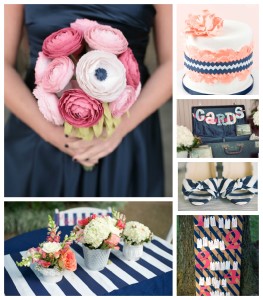 Before being able to plan your wedding, think about the color scheme you want to have. There are tons of colors that work well together, add a bold color to brighten, darken or add contrast to your color scheme.
The hottest trending wedding colors for 2014 include shades of blue, pink, and neutral colors. Different color combinations with these shades are endless. Navy blue and pink hues are a hot trend for 2014. Adding a bright color such as a sunflower yellow will brighten up the wedding and give a great contrast to your color scheme. Cool water colors are also a big trend for 2014. Shades of aqua, pink and lemon are great beach themed colors. Neutrals, beige, tan, gray and a hint of light pink are the perfect romantic colors. Choosing your color scheme is a big part of your wedding planning. This is one of the first steps in planning. After choosing your color scheme, wedding flowers, bridesmaid gowns, and décor details will be chosen according to the color scheme. It is best to color coordinate with the theme of your wedding. If you choose to have a beach theme, pick colors that are beach-like such as, aqua, peach, tan, and sun yellow.
According to Pantone, the biggest color for 2014 is "Dazzling Blue". Dazzling blue is in the same hue as navy only brighter and bolder! This color blue goes well together with orange, sunflower yellow or a fuchsia pink. These colors are fun bold colors that will pop out in your wedding!