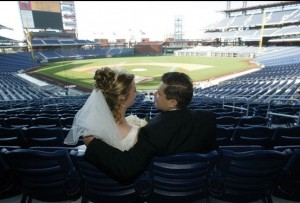 If you are a bride who is looking for a wedding venue that is far from ordinary, this may be the perfect place for you. Nontraditional weddings are always fun, especially when it really captures the personality of the bride and groom. And if you and your groom are huge Phillies fans then Citizens Bank Park is more than an ideal Philadelphia wedding venue. At Citizens Bank Park, they can accommodate a party of any size so you won't have to leave out any of your Phillies loving friends!
Citizens Bank Park has wedding packages that include spectacular services you won't  receive anywhere else. These services include behind the scenes tours, a guest appearance from the Philly Phanatic, the opportunity to put a special message on the scoreboard and or auxiliary boards, and even alumni player appearances. Wow your guests by having former players come to your wedding and sign autographs! Citizens Bank Park also accommodates indoor wedding ceremonies as well as outdoor ceremonies.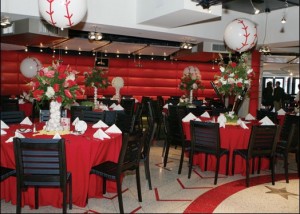 Make your wedding one of a kind in one of their many offered banquet halls. Citizens Bank Park is a Philadelphia wedding venue that can give you the best of both worlds. Get the excitement and glamour of the home of the Phillies along with the elegance and chic vibe of a magnificent banquet hall.
For more information on how to book your Phabulous Phillies wedding click here!