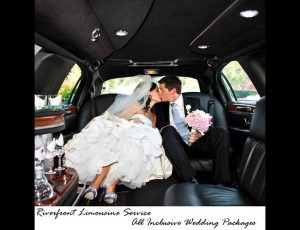 You will be treated with red carpet service by Riverfront Limousine. They will supply you with a complimentary bottle of champagne to celebration the special day with your bridal party! Enjoy being treated with luxury. The chauffeur will wait on you hand and foot to make sure you have few worries throughout the day.
The service at Riverfront Limousine is impeccable. They will arrive on time and get you to the wedding reception in no time. Guests will be anxiously waiting for you to arrive to begin the celebration of your marriage! Riverfront Limousine has an impressive fleet with more than 20 different models! The luxurious stretch limo is perfect for weddings or bachelor/bachelorette parties offering optic lighting and powerful sound.
Serving the many locations around the surrounding areas including Delaware,New Jersey,Maryland,New York, and Washington D.C., you will not be disappointed by Riverfront's service.