Brides! Do you like "Do It Yourself" ideas especially when it comes to planning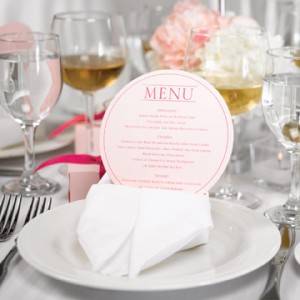 your wedding?! I'm sure most of us always wonder what the menu is for the wedding we are attending. Did you ever think about placing out creative menu cards for your guests at their table or in the entrance? I found some neat, original ideas for your menu cards! They are all DIY where you can put your own personal touch into them! – You can also save lots of $$ when you are creating them!
When your guests enter your wedding reception they will be awed and excited to spend some time with the bride and groom. As they walk in the first thing they will notice is the menu neatly written out on a chalkboard! Decorate it with a few of the same type of flowers as your bouquet or add some ribbon. If you are doing a theme wedding, such as a beach theme add some seashells! Make it yours!
Menu cards sitting in the soup bowl or plate! These are awesome and add space to your tables to go just a little bit crazier with your wedding centerpieces! Find a cute design and add your wedding colors, then cut them into the size of the soup bowl or plate!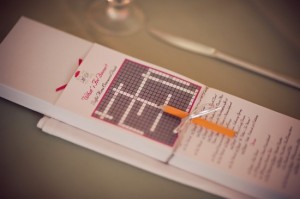 Puzzles are always fun! Incorporate your menu into a crossword puzzle. Letting your guests interact with one another while having fun adds a little more fun to your wedding reception!
Everyone loves wedding favors or a memento from a wedding. Print your menu card out on some fancy cardstock and attach recipe cards of the meals to the menu card for guests to take home!  How thoughtful is that!?
Outdoor weddings are becoming more and more famous especially on those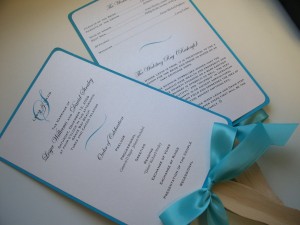 hot summer afternoons. While waiting for you and the groom to arrive at the wedding reception, guests can enjoy cooling themselves off with their "menu fan"! Create your menu card into a personal fan! What a "cool" idea!
I hope your mind is running with some very creative ideas that you can do yourself! By creating something for your wedding, it makes it even more memorable, adds a personal touch and shows off your creative side.